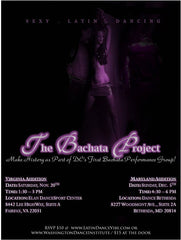 Make history as part of DC's first Bachata performance group debuting at the 3rd Annual DC Bachata Congress next summer!!!

The 1st Production/Routine:
Our first production will be a collaboration of everyone involved in the Bachata Project. We will be utilizing each of your strengths and highlighting them rather than dividing everyone into different levels. This team is the most unique & creative in the entire DC area!



Team Membership Rate: $85 per month
- Payments in Cash, Money Order or PayPal are due on the 1st Sunday of the month
Discount Membership Rate: $65 per month
- Pay for 3 months in advance and save $60!
- Total due at the beginning of each three month period is $195 ($65 x 3 months)
Weekly Rate: $30
- If you are able to make only 1 or 2 rehearsal in a month you may use this option
Rehearsal Location, Day & Times: (for members only)
- DanceBethesda
- Sundays, 7:30-9/9:30pm (1.5-2hrs)
(Arrive by 7:15 to warm up, practice will start on time.)

*Practices are for Bachata Project Members ONLY - no guest, friends etc..(unless approved by artistic directors)
What to wear to rehearsals?
Dress comfortably (tshirts, sweat pant, dance sneakers) we will be doing a lot of work so come ready to sweat!
DO YOU HAVE ANY SPECIAL SKILLS?
Let us know your hidden skills so that they can possibly be integrated into the routine.
- Can you Juggle, do

Cartwheels

, strip tease :),

- Can you do the splits, back bends or handstands?

- Any other dance styles you are strong in? (Ballet, Jazz, Hip Hop, Swing Ballroom,

Argentine Tango

, etc.)




BACHATA CONGRESS DATES: August 11th-14th

When will we perform? We do not know which evening as of yet. We will forward more details as they become available.
Should I buy my Bachata Congress Pass? Do not worry about your tickets since the "performer passes" have not been released yet. The Congress organizers will be getting back to us this week about which option will be the best value for you.



Questions? You can find all of the details for the group on the FaceBook page (search "Bachata Project"), on Toti & David's websites & in the previous emails we have sent out.. Please check these sources before contacting us. If there is any question that was no answered above please feel free to ask..
INTERESTED IN BEING A PART OF THIS GROUP?
Artistic Directors of the Bachata Project
- Toti@LatinDanceVibe.com - 240-426-2385
- David@WashingtonDanceInsti
tute.com - 703-862-3526