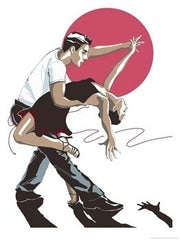 "Flava Fridays" Salsa Dancing and Classes at Picante in Chantilly
"Where Salsa & Bachata Sizzles every Friday"
Looking for salsa classes and dancing near Centreville, Reston, Leesburg, Herndon, Ashburn and Manassas? The smoke-free, chic Picante Restaurant is centrally located in the Dulles area!
Salsa Dance Classes
(Usually Salsa but may be changed to Cha-Cha, Bachata, etc.)
- Beginner Salsa 8:30-9:15pm
- Intermediate Salsa 9:15-10pm
10pm-2am DJ Dance Party!!
NEW GREAT MUSIC VIDEOS!!!: Yes, that's right, Picante is now using it's digital projectors to bring you the latest MUSIC VIDEOS on their BIG SCREEN to keep you fully engaged all night!! Your favorite song will take on a whole new dimension!! We are the only salsa venue in the area to do this...so come check it out!!
Picante Restaurant
(near intersection of Rt. 50 & Rt. 28)
14511 Lee Jackson Memorial Highway, Chantilly, VA

**FACEBOOK RSVP DISCOUNTS & SPECIAL EVENT SCHEDULE**
(Special event cover charge & workshop schedule varies. Sign up for our e-newsletter or check out our FaceBook Group for updates and discounts)
HAVE YOUR "SALSA BIRTHDAY PARTY" WITH US!!!
Get a FREE cake & 1 FREE admission!
* All you have to do is create a FaceBook event for your party at Picante and send out the invite!
** Contact David Norton for details and to book your party at david@washingtondanceinstitute.com.
*** Everyone gets a birthday dance with the help of the entire club!

(See the "Birthday Dance" video's below)
==============================
SALSA DANCING VIDEOS FROM PICANTE!! SEE WHY WE HAVE THE MOST FUN!!!
BIRTHDAY DANCE VIDEOS FROM PICANTE!!!