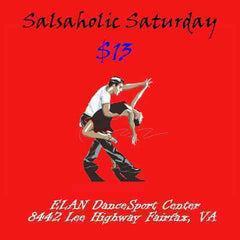 OLD EVENT PAGE

Join us for the 3rd annual "SALSA-HOLIC RED & WHITE VALENTINE'S PARTY" on Feb. 13!!! Be sure come out on the 2nd Saturday of every month for SALSA-HOLIC SATURDAY at the Elan DanceSport Center!!!

No more $3 bottled water $5 sodas & tipping! Why spend so much for a night of Salsa Dancing, when you can have it all for one good price? $15 includes lessons, water, soda & snacks!

David Norton and Elan are proud to bring you 2 Instructors & 2 DJ's, Plus this is an official "DC SALSA MEETUP EVENT"!!! This month the coveted Salsaholic guest instructor position goes to the amazing Vianette Silva from CLAVEKAZI who along with your host David Norton will be bring their smooth moves to this months workshops!

By popular demand, DJ Bruno will rock the house in the main studio!


(DCSM organizers Ruthie & Liz)

Fabulous Salsaholic Saturday Workshops – 6 to choose from!

Main Studio
7:00-7:45pm Ladies Styling & Footwork – Vianette
Learn sensual styling from one of DC's most elegant ladies!

7:45pm-8:30pm Spins & Turns – Vianette
One of the first things we all notice about an advanced dancer are there turns! Learn the fundamentals of great turns and take your dancing to the next level!

8:30-9:00pm Cheeky Cha-Cha – Vianette
Learn the other on2 dance! After this workshop you will be able to hit the floor with confidence!

Studio 2
7:00-7:45pm Beginner Salsa On1 – David Norton
Learn from one of the best teachers in DC! Beginners love this workshop and come back month after month to refine their basics.

7:45-8:30pm Intermediate Salsa Partnerwork – David
Want to know how the pros do it? Learn a new fun combination made easy by one of DC's best instructors!

8:30-9pm All-Level Bachata combination – David
How to convert Salsa patterns into Bachata!



OPEN DANCING 9PM-1AM w/ DC's Best DJ Bruno spinning the best mix of Salsa, Mambo, Bachata, Merengue & Cha-Cha!!! In the second room "Toti" will be running the areas best ALL-Bachata Night! Some Merengue & Cha-Cha in both studio rooms!

Free water, sodas, and snacks included!
No alcohol will be served & BYOB is not allowed.

Location:
ELAN DanceSport Center
8442 Lee Highway, Suite A
Fairfax, Va 22031

Cover charge w/ Lessons
$15 Regular
$12 MeetUp Members & Students w/ ID

Party Only
$12 Regular
$10 MeetUp Members & Students w/ ID

$3 for kids – all the soda they can drink!
Only $1 for kids of MeetUp Members!
(you are responsible for watching your children)