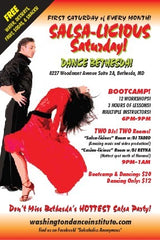 "Salsa-licious Saturday" Salsa Classes and Dancing in Bethesda, Maryland
MARYLAND'S HOTTEST SOCIAL IS EVERY 1ST SATURDAY!!
FEATURING:

- 9 Workshops! 
- Salsa, Mambo, ChaCha & Bachata Room w/ VideoDJ Tadeo!!
- NEW! The Kizomba Closet!
FREE FOOD & DRINK BAR!!


- DRINK BAR: Water, Sodas, Fruit Juice & Sparkling Cider.




- SNACK BAR includes: Fresh Fruit, Cream Puffs, Homemade Brownies, Mango salsa, Taco dip, Scoop chips & mixed veggies!




===============================
FABULOUS WORKSHOPS BY AMAZING INSTRUCTORS!!!
3 BOOT CAMPS (9 WORKSHOPS!!)
"BACHA-CHA" BOOTCAMP

6pm Bacha-Tango w/ Edgar "The Elite Rumbero"
"A romantic fusion"
7pm ClaveKazi-Style Cha Cha w/ Irene Hotlzman
"Fun moves anyone can do!"
8pm BP-Style Bachata w/ David 'el Guerito" Norton
"Making your moves Pop"
----
BODY MOVEMENT BOOTCAMP 

6pm Ladies Styling w/ Irene Holtzman
"Footwork, Body Isolations & Arms"
7pm Cuban Son & Afrocuban Rumba w/ DC Casineros
"Cuban body actions"
8pm Zouk Flava w/ Amy White
"Body movement & intricate combos"
----
SALSA e RUEDA BOOTCAMP

6pm Beginner Salsa w/
David 'el Guerito" Norton
"Starting with the fundamentals"
7pm Intermediate Salsa w/ Edgar "The Elite Rumbero"
"LA style salsa On1"
8pm Intermediate Rueda de Casino w/ Adrian Valdivia
"Rueda de Cubana"
9PM-2AM DANCE ALL NIGHT IN 2 ROOMS!!!

From 9PM-2AM with great music & sounds, amazing lights and wonderful floating wooden dance floor!
1) SALSA, BACHATA & CHA CHA ROOM w/ DJ Tadeo!

"All Salsa, All Mambo, All Cha-Cha, All Night!"
2) NEW!! The Kizomba Room

All Kizomba - All Night!
All Kizomba - All Night!!
 – 
Google Map
11910 Parklawn Drive
Rockville, MD 20852
Parking:
Free all around the building
Cover charge
- Dance Party & BootCamp: $20
- NEW! Access to the 8pm workshops + the party: $15

- Kids Price: $5 (ages 11 & below) 
(you are responsible for watching your children)
(Join our Facebook Fan Club)
============
RAVE

REVIEWS

!:
(Read what others say about
SALSALICIOUS
SATURDAY
in Bethesda).
Kelly "Last time was Off the Chain!"
Asesu " I had a lot of fun!!! I brought 3 friends with me and it's safe to say that everyone had a wonderful time. I plan to attend more!"
Lynn LaMartina "Great Party!! Nice studio. I'll be back for the next party."
Jose Araujo "good show."
Nelly "I love it, I danced all night with my friends. I will be there from now on count on me!
Tina "Had a great time. My neighbor and I had a great time looking forward to the next event. Loved the set up, no alcohol, loved it!"
Nancy "It was a fun evening. Great lessons. Friendly people and just a good night. Highly recommend this event for anyone looking for a nice evening."
Darline "The event was well organized."
1 – What I like the most about this event:
a. The fact that you used two rooms for the dance
b. The idea of serving the appetizer (fruit, smoothie etc.)
c. The time David and the other instructors you take to teach us the new moves
d. The greeting from David and other members
Yves "Good music, good crowd!"
Eugene "Great! I liked dearly the workshops. Free drinks too. You cannot beat it with only $20 admission. What a valuable package! David Norton is a great instructor. His in-depth teaching on basics of dance helps in polishing dance moves."
Diane "I thought is was great. David knows how to throw a wonderful party! And the workshops I attended were excellent."
Jose Barretto "It was fantastic being able to dance to timba music the entire night!
Joey D. "Lessons were excellent and informative. The DC Casineros performance was vey flavorful and fun to see. The drinks rocked! Was very happy I had the chance to go and looking forward to future Salsa-licous parties…Thanks for the great time!"
Jamaican Gail "Had fun."
Hector "Toti" Chavez "What a great night! Congrats David on a traffic party!"
Mark Sargent "Excellent!"
Jennifer "LOVED IT!!! Loved the music, the space, the bonbons, and everyone who came out to dance!!! 
Kevin Murray "really great crowd!!! LOTS OF FUN!!!"