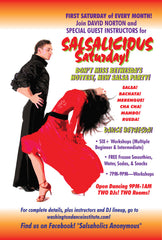 Salsalicious Saturdays First Saturday of the month in Bethesda Maryland
OLD EVENT DESCRIPTION

NEW: MAMBO @ MIDNIGHT – Looking for a great place to get your on2 fix? Beginning this month the main studio will flip from Salsa to Mambo from 11:30pm-1am. (Can continue later if the party is still going)

Maryland's newest & hottest monthly social "Salsa-licious Saturday" is the 1st Saturday of every month at Dance Bethesda with Multiple instructors, 10 Workshops, 2 Rooms & 2 DJ's!!!

Forget the regular clubs with high drink prices. Like an all-inclusive resort, once you enter you don't need your wallet! No $4 bottled water, $5 Smoothies, and tipping the bartender! Why spend so much for a night of Salsa, Rueda & Bachata when you can have it all for one flat price? $15 includes: Free "Refresha-licious" ice cold Smoothies, water, sodas, and food!!!



(Not your average chips & pretzels! Our snack bar includes Fresh Fruit (seasonal) Cream Puffs, Homemade Brownies, Mango salsa dip, Taco dip, Scoop chips & mixed veggies!!!)

Note about shoes: The main studio room has a brand new, state-of-the-art, dance floor! It is bigger and more beautiful. However, you need to be sure to bring a pair of shoes with a hard & smooth sole that will not mark the floor or collect dirt from the street and grind it into the floor. Bring dance shoes if you have them! One of the rooms has an older wood floor on which you can wear whatever you like.

Amazing Guest Instructors!: Victor from TRABUCO & Ernesto from Saoco,
..who along with your host David Norton will be bring their exciting moves to this months workshops!

7-9pm – Fabulous Workshops – 10 to choose from!!!

7-7:45pm:
"Sensational Salsa" (beginner) Victor from TRABUCO
Getting off to a great start!
"Banging Bachata" (Intermediate) David Norton
We are bringing sexy back!
"Miami-Heat, Casino Rueda" (Beginner & Intermediate) Ernesto Reyes
Two levels of Rueda simultaneously! Pick your level and join in the Rueda fun!

7:45-8:30pm:
"Cheeky Cha-Cha" (all-level) Victor from TRABUCO
Simplifying the trickiest Latin dance! (workshop provided due to multiple request!)
"Salsa-licious, LA Style Salsa" (intermediate) David Norton
Making intermediate moves look advanced
"Rueda Rapido" (Advanced) Ernesto Reyes
Complicado, Complicado, Complicado!!!

8:30-9pm:
"TBA" (advanced) Victor from TRABUCO
Advanced Special workshop w/ TRABUCO's choreographer!
"Merengue Moves" (Beginner) Ernesto Reyes
Mucho Complicado en Rueda? No en Merengue!
"Smooth Salsa" (Advanced Beginner) David Norton
Beyond beginner but not yet Intermediate? Than this workshop is for you!



9PM-1AM – The HOT DJ lineup w/ 2 rooms of Open Dancing!:
The "Salsa-licious" & "Bachata-licious" Room: DJ "El Sonero" from Barking Dog & Umberto's will be spinning his best mix of Salsa, Bachata, Merengue & Cha-Cha!
(MAMBO @ MIDNIGHT: from 11:30pm-1am the main room will convert to a mix ideal for on2 dancers!)
"Casino-licious" Cuban Room: DJ Reyna from the DC Rueda Meetup Group will be playing a special blend of timba creating Bethesda's HOTTEST place for Cuban Salsa & Casino Rueda! (see video of Casino Room)

Location:
Dance Bethesda – Google Map
8227 Woodmont Avenue, Suite 2A
Bethesda, MD 20814
Parking: Free lot across the street on Woodmont Ave.
Metro: About 1/2 mile walk from Bethesda metro. Walk north on Wisconsin Ave. Make a left on Battery Lane and an immediate left on Woodmont Ave. Studio is on the corner on the 2nd floor.

Cover charge
Party & Lessons: $15
Party Only: $12
Kids Price: $5 – Free Frozen Smoothie & Soda for them too!
(you are responsible for watching your children)

(Join our Facebook Fan Club)
============

RAVE REVIEWS!: (Read what others say about SALSALICIOUS SATURDAY in Bethesda).
Kelly "Last time was Off the Chain!"
Asesu " I had a lot of fun!!! I brought 3 friends with me and it's safe to say that everyone had a wonderful time. I plan to attend more!"
Lynn LaMartina "Great Party last night!! Nice studio. I'll be back for the next party."
Jose Araujo "good show."
Nelly "It was my pleasure to be part of salsa celebration, specially this first Salsalicious Saturday night. I love it, I danced all night with my friends. Congratulations, this was a very success event. I will be there from now on every first Saturday of the month count on me, Congratulations again.
Tina "Had a great time. My neighbor and I had a great time looking forward to the next event. Loved the set up, no alcohol, loved it!"
Nancy "It was a fun evening. Great lessons. Friendly people and just a good night. Highly recommend this event for anyone looking for a nice evening."
Darline "The event was well organized."
1 – What I like the most about this event:
a. The fact that you used two rooms for the dance
b. The idea of serving the appetizer (fruit, smoothie etc.)
c. The time David and the other instructors you take to teach us the new moves
d. The greeting from David and other members
e. The location
2 – What I did not like:
a. NOTHING. I do not have any complaint. "Everything was great to me."
Yves "Good music, good crowd!"
Eugene "Great! I liked dearly the workshops. Free drink too. You cannot beat it with only $15 admission. What a valuable package! David Norton is a great instructor. His in-depth teaching on basics of dance helps in polishing dance moves."
Diane "I thought is was great. David knows how to throw a wonderful party! And the workshops I attended were excellent."
Jose Barretto "It was fantastic being able to dance to timba music the entire night. Also: the intermediate class I had with Ernesto was just what I was hoping for."
Joey D. "Lessons were excellent and informative. The DC Casineros performance was vey flavorful and fun to see. The drinks rocked! Was very happy I had the chance to go and looking forward to future Salsa-licous parties…Thanks for the great time!"
Jamaican Gail "Had fun."
Hector "Toti" Chavez "What a great night! Congrats David on a traffic party!"
Mark Sargent "Excellent!"
Jennifer "LOVED IT!!! Loved the music, the space, the bonbons, and everyone who came out to dance!!! Thank you to everyone who came out and if you missed it…catch it next month!"
David Norton "Awesome!!! Hector, Eresto & Jennifer did a great job teaching, DJs "el Sonero" & Reyna played excellent music & DC Casineros gave a killer performance!!!"
Kevin Murray "really great crowd!!! LOTS OF FUN!!!"