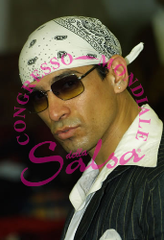 ToJam Presents: Francisco Vazquez
ToJamEntertainment presents…
FRANCISCO VAZQUEZ @ Ocean Drive Nightclub

Saturday Workshops, Sept 29, 2007
11:00am LA Salsa Intermediate/Advanced Shines
12:00pm LA Salsa Intermediate/Advanced Turn Combination
1:00pm Lunch (Free for day pass holders)
2:00pm Cha Cha Intermediate/Advance
3:00pm Afro-Cuban Rumba (For All Levels)

Sunday Workshops, Sept 30, 2007
11:00am Spins, Turns & Pivots (For All Levels)
12:00pm Bachata Intermediate/Advance
1:00pm Lunch (Free for day pass holders)
2:00pm Dips and Tricks (For All Levels)
3:00pm Special Routine Workshop: This class will incorporate elements of all of this weekends workshops!
Notice: All prices subject to increase on Wednesday, Sept 17th.
Sign up online now to secure these discounted prices!
Pay per class – $20 (regular price)
1 day pass – $70
Savings of $10 off regular price


FREE

Lunch catered by The Pearl Restaurant

2 day pass – $130

Savings of $30 off regular price


FREE

lunch catered by The Pearl Restaurant


FREE

admission to ToJamEntertainment's 1-Year Anniversary Party Monday night (10/1) at Ocean Drive Nightclub,


AND

$5 off voucher for our Saturday night social (9/29) at Alliance Dance Institute


At both our 1-year Anniversary party and our Saturday night social, you will have a chance to meet and dance with Francisco. You will also get the chance to see why he is considered to be one the greatest salsa dancers to ever live.

He is world-renowned for his impromptu demos. Maybe you will be
the lucky girl to get to perform with him.
Francisco's Bio: Francisco Vasquez is considered by many to be the greatest salsa dancer in the world. He is the originator of what has now come to be known as L.A. style salsa ? a flashy, dynamic, showy style featuring fast-paced footwork and strong accents of the music. He is the founder, choreographer, and lead dancer of Los Rumberos which has been consistently in the top 5 groups in the world since 1996. He is the master of many dance styles including Salsa, Mambo, Bachata, Afro-Cuban, Merengue, Cumbia, Cha-Cha, Latin American Dance techniques, Rumba (authentic Cuban style), Mambo, Guaguanco, Guaracha, Charanga, Pachanga Mexican Folkloric & Indigenous Dances.
He has appeared in many movies: some of the better known are "Selena", "Dance With Me", and "Multiplicity". He has danced in numerous music videos: J Lo's "Waiting for Tonight", Marc Anthony's "I Need to Know", Selena's "A Boy Like That", and others. He has also won multiple world championships at the Conga Room and the Mayan in Los Angeles and on the TV show Sabado Gigante. He has performed on stage with many of the Latin greats like Celia Cruz, Ruben Blades, and Gilberto Santa Rosa among numerous others, as well as touring his performances and teaching all over the world every year since 1997.
He is one of the most sought after teachers in the world and we are lucky to get him. I hope to see everyone out at his workshops.